In 2007, Chris Messina had the brilliant idea to start using hashtags on Twitter. Little did he know, he was creating history.
His purpose when he proposed to use hashtags for categorizing tweets was simple. To make it easy for his customers to find relevant content. However, what started as a mere way to categorize messages on Twitter has now become an integral part of every business's social media strategy.
In this blog, we'll discuss what is a #hashtag, and how to use them. Further, we'll decipher how to find ideal engagement hashtags. Lastly, we'll shed light on the best practices to follow on each platform while using these social media tags.
What Is a Hashtag?
A hashtag is a word or keyword phrase prefaced by a hash symbol (#) without spaces or special characters. In a more technical sense, it's a metadata tag used on social media to categorize and group content together. When you click on a hashtag, you can view posts from everyone who has used it. Users often search and discover content and trending topics with the help of hashtags. And brands use hashtags for marketing and promotions. Overall, hashtags enable community building by bringing brands and people with shared interests, and values together.
You can add hashtags to social posts, bios, and comments on most major platforms, including Instagram, Facebook, TikTok, Twitter, LinkedIn, YouTube, and Pinterest.
Do You Know? What's The Best Time To Post On Social Media
Learn More
Imagine this: Your social media manager suggests a random keyword. For instance, Hashtags Small Business. And you have to incorporate it into your social media content. Using a hashtag is an effortless way of doing so. Simply add a hashtag as a preface and incorporate it into your caption – #HashtagsSmallBusiness. Easy right? And how smooth. This is one of the many ways of creating and using a hashtag.
Examples of Hashtags
#Hashtags
#Whatisahashtag
#howtousehashtag
#EngagementHashtags
#HashtagsSmallBusiness
#Hashtagstrategy
Why Use Hashtags?
You should use hashtags because they make your post more visible and it's an effective strategy to increase engagement. Below are some points that will help you learn more about the importance of hashtag usage.
Drive conversations and reinforce your brand identity by creating more brand-related hashtags.
Use trending hashtags that align with brand values and products to join relevant conversations.
Develop campaign-specific hashtags to track and promote marketing initiatives.
Foster a sense of community around your brand by encouraging customers to use a specific brand-related hashtag.
Encourage customers to share content using your brand's hashtag, which can serve as social proof.
Use consistent, brand-specific hashtags across platforms to strengthen recognition.
Track hashtag performance and engagement to refine your social media marketing strategy.
How to Find Effective Hashtags?
Research, Research, Research: Understand the main topics and trends in your niche to identify common hashtags.
Keep an Eye on Competitors: Check what hashtags your competitors are using successfully in their posts.
Balance Out Popular and Niche Tags: Use a combination of popular hashtags with more specific, niche ones to reach a broader and targeted audience.
Get Location-Specific: Include location-based hashtags if your content is location-relevant.
Go for Long-Tail Hashtags: Incorporate longer, descriptive hashtags to capture a more engaged and specific audience.
Monitor and Modify: Track the performance of your hashtags and adjust your strategy based on their effectiveness.
Stay in the Know: Be up-to-date with trending topics and adapt your hashtag strategy to stay relevant.
Leverage tools: Utilize hashtag research or digital marketing tools like Practina for automatic post and hashtag generation.
Optimize Your 2023 Hashtag Strategy
Incorporating hashtags in your social media strategy is important. Using the right ones, the right way on the right platforms even more so. You have to be intentional about using these social media tags. Moreover, using too many hashtags or picking and choosing random hashtags can do more harm than good for your engagement and reach. So, be mindful while developing your 2023 hashtag strategy. Finally, there is no hard-and-fast rule. So, optimize your strategy regularly.
Use of Hashtags on Different Networks
Each platform has its own set of rules and there are a few related to hashtags. So, it's only wise to tailor your hashtag strategy to achieve the best results. We've listed the best practices you should follow on each platform below.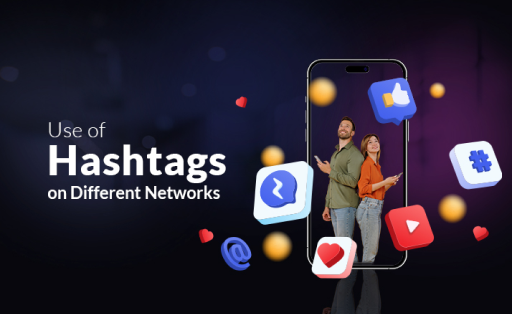 Best Hashtag Practices for Instagram
Enhance visibility by using 3-5 hashtags per post, including popular, niche, and trending. It'll increase your chances of appearing on the Explore page.
Include relevant hashtags in your Stories to increase your chances of being discovered.
Post Reels with relevant hashtags for broader audience reach while maintaining content quality.
Use social media management software like Practina to generate content and hashtags in minutes.
✔ 60% of Instagram users discover new products using hashtags.
Best Hashtag Practices for LinkedIn
Use 3-5 formal hashtags in your LinkedIn posts to connect with a professional audience. Focus on industry-specific or career-related tags.
Share 2-5 posts weekly and use LinkedIn hashtag generators or social media management software for appropriate tags.
Position yourself as an industry expert by sharing thought leadership content with relevant engagement hashtags.
Keep an eye out for competitors sharing similar content and using the same tags to assess trends.
Best Hashtag Practices for Facebook
Use 2-3 relevant hashtags to engage your audience, including branded and industry-specific ones for cross-media promotion.
Incorporate Facebook Reels with location-specific and brand-specific hashtags in your content strategy and expand reach.
Include hashtags while responding to comments on your posts to foster engagement.
Use event-specific hashtags for promotions and time-sensitive content to create a sense of urgency.
Keep the use of hashtags focused and relevant to ensure your content reaches the right audience.
✔ Using only one hashtag in a Facebook post results in an average of 593 engagements.
Best Hashtag Practices for Pinterest
Conduct extensive keyword research and use 2-6 relevant hashtags in your pin descriptions.
Create seasonal boards and use seasonal hashtags to stay relevant to your audience.
Utilize the autocomplete feature to include popular and relevant hashtags in pin descriptions.
Align your pins with trending engagement hashtags to boost engagement. Regularly update and curate your Pinterest boards to maintain relevance.
Best Hashtag Practices for Twitter
Use 1-2 relevant hashtags per tweet for decent reach without compromising content quality.
Participate in broader discussions by incorporating 1-2 relevant hashtags into tweets related to trending topics.
When live-tweeting events or webinars, use event-specific hashtags to maximize engagement.
Stay current with trending conversations to find the most relevant and hyped tags.
Find like-minded people by engaging with the Twitter community using niche or topic-specific hashtags.
Be mindful of the character limit when using engagement hashtags in tweets.
✔ Tweets with relevant hashtags are 55% more likely to get retweeted.
Best Hashtag Practices for TikTok
Use 3-5 relevant hashtags in your captions to increase your video discoverability.
Engage with the TikTok community by participating in or creating your own hashtag challenges. Get creative.
Stay updated with emerging or trending social media tags to adapt your content and reach a broader audience.
Actively participate in hashtag challenges to showcase your brand's identity.
Consistently interact with and support the TikTok community to boost your online presence on the platform.
Best Hashtag Practices for YouTube
Use 3-5 relevant hashtags in your video title and description to improve searchability and SEO rankings.
Encourage viewers to like, comment, and share your videos using hashtags.
Stay updated with trends and emerging social media tags within your niche and incorporate them as and when relevant.
Research and use YouTube hashtag generators to find appropriate tags for your content.
✔ Note: The algorithms of social media platforms change from time to time. This also impacts the efficacy of hashtags. Stay current on such updates to optimize your strategy accordingly.
Simplify Your Social Strategy – Try Our Social Media Management Tools Today!
Get a Free Trial
Conclusion
Hashtags, or social media tags as we know them, are integral to every social media marketing strategy. They allow businesses to categorize content, connect with their target audience, and enhance their online presence. However, aligning your hashtag strategy with each platform's unique approach is pivotal. Further, to streamline your hashtag strategy, consider leveraging tools like Practina. It's a digital marketing tool that employs AI technology to generate content, including hashtags, to help you take your marketing game up a notch.